Nationwide Insurance implements master data management program
Nationwide Insurance shares master data management (MDM) best practices in this case study podcast and provides an architectural diagram.
Master data management (MDM) is a complex discipline that can take years to develop and implement. While many organizations are still investigating MDM, some organizations already have successful programs in place, as evidenced by this discussion with Lance Dacre, director of data governance for Columbus, Ohio-based Nationwide Insurance.
The insurance company first started its MDM initiative to improve the availability and comparability of financial data used for enterprise analysis and reporting. That required dealing with over 300,000 spreadsheets. Now, having found measurable success with MDM in the finance department, the company plans to expand its program to other departments and data domains.
In this 15-minute podcast, appropriate for both business and IT professionals, listeners will:
Hear why Nationwide pursued master data management and how the team built a business case and successfully secured funding for the project
Learn more about Nationwide's MDM systems and technical architecture as Dacre walks listeners through a detailed architecture diagram (below)
Find out about the technical and organizational challenges that the team encountered, and hear how they overcame them to deliver a successful program
Hear more about how Nationwide measured the success of the MDM program, including the metrics they use to track improvements
Get firsthand advice, best practices and cautions for successfully implementing an MDM program
---
About the speaker and company: Lance Dacre, director of data governance, has been with Nationwide Insurance since 2004. Nationwide, based in Columbus, Ohio, is one of the largest diversified insurance and financial services organizations in the world. The company provides insurance and financial services, including auto, motorcycle, boat, homeowners, life, farm, commercial insurance, administrative services, annuities, mortgages, mutual funds, pensions, long-term savings plans and health and productivity services.
---
Images - Master data management at Nationwide:
These images show the MDM architecture discussed in the podcast. Click on images to enlarge.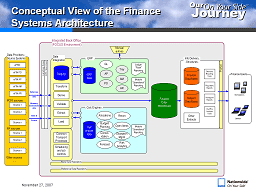 This is the conceptual view of Nationwide's Finance systems architecture, which Lance Dacre discusses in detail in the podcast. Reference Data exists to support reporting, analysis and control processes. Virtually, all components within the finance environment consume some sort of reference data.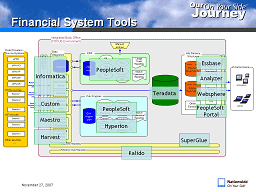 Nationwide has combined a number of tools into the Finance Systems Architecture to address a variety of processing and reporting needs.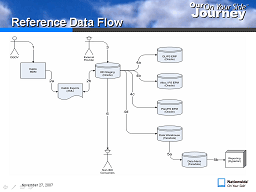 This image shows the current flow of reference data through Nationwide's new architecture.



For more about master data management:
Watch a videocast with practical advice for getting started with MDM, from expert Evan Levy
Read Gartner's advice for selling MDM internally to your organization
Find out more about how to build a business case for MDM, in this podcast with Ventana analyst David Stodder
Learn more about evaluating MDM technology from Gartner and Forrester analysts
See our MDM All in One Guide with more podcasts, articles and resources
Check out the most popular SearchDataManagement.com articles about MDM in this Top 5 headlines feature