WavebreakMediaMicro - Fotolia
News
Stay informed about the latest enterprise technology news and product updates.
Google enhances Cloud Spanner and other databases
Google is adding a series of enhancements to its cloud database portfolio, with new capabilities for the Bigtable data store, Firestore mobile database and other platforms.
Google updated its cloud database portfolio with a series of incremental improvements to Cloud Spanner and other data management services.
The cloud database updates, revealed Aug. 18, came during week six of the Google Next conference that started on July 14 with the unveiling of BigQuery Omni for multi-cloud data analytics.
Google Next 2020 is a virtual event this year, with each week focused on a different set of technologies. Among the updates revealed this week, in addition to new capabilities for the Cloud Spanner database, were updates to the Bigtable data store and Firestore mobile database.
Google also used the event to showcase customers that use its cloud database services.
Among them are ShareChat, which is a social media platform based in Bengaluru, India that supports over 140 million monthly active users. During a user session at Google Next, Venkatesh Ramaswamy, vice president of engineering at ShareChat, explained why and how his organization moved away from cloud database services on Amazon Web Services to Google Cloud database services.
Why ShareChat moved to Google Cloud Spanner and Bigtable
Ramaswamy said ShareChat was finding scalability challenges with the way it had configured its services to run on the DynamoDB NoSQL database at AWS.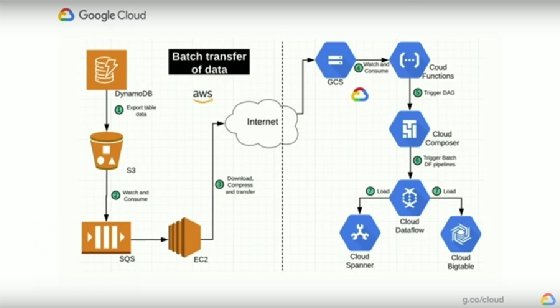 Reworking ShareChat code and services to run better on DynamoDB was difficult for Ramaswamy's team, so they decided to look for another option.
"We went through a very thorough evaluation process internally and then decided to migrate off DynamoDB, leveraging both Spanner and Bigtable," Ramaswamy said. "We were already running our machine learning and AI workloads on Google Cloud to begin with, and that gave us the confidence to look at Spanner and Bigtable to support the rest of our data infrastructure."
Any migration of this nature is not going to be a linear path. You could build all the contingencies in place and you would still end up encountering things of an unknown nature and you just have to fight your way through it.

Venkatesh RamaswamyVice president of engineering, ShareChat
ShareChat ended up using cloud Bigtable for all of its single index database requirements and selected Cloud Spanner for all services that needed more than a single index.
Moving from AWS to Google Cloud databases, including Spanner, was a complicated process for ShareChat, as the social media company had over 80 terabytes of data that needed to be migrated, alongside building and moving services.
The project took about six months and involved ShareChat working directly with Google as well as with service firm CloudCover. Ramaswamy emphasized that working with partners and Google was critical to the success of the migration.
"Any migration of this nature is not going to be a linear path," he said. "You could build all the contingencies in place and you would still end up encountering things of an unknown nature and you just have to fight your way through it."
Google Cloud database updates
During the opening keynote, Penny Avril, director of product management at Google Cloud, outlined a series of enhancements across the Google Cloud's database business.
Among the new enhancements is the general availability of the Spanner Emulator tool, which enables users to develop and test applications that will use Spanner. The Firestore mobile database got updates for the Key Visualizer tool that is intended to give users better visibility into usage and performance. Managed backups also are now generally available for Bigtable, Avril said.
"This provides protection against operator error and application corruption scenarios without the management overhead, so you can stay up and running no matter what happens," Avril said.
She noted that Bigtable now benefits from table-level identity management. Google has also enhanced Bigtable's audit logs for administrator activity to help improve security and reduce risk.
"At its core, Google is a data company, and much of the innovation you experience is built out of our need to solve some of the most difficult challenges in managing vast volumes of data," she said.