News
Stay informed about the latest enterprise technology news and product updates.
Cross-country odyssey points way to data management best practices
A trip to two conferences on opposite sides of the U.S. yielded tips and advice from IT professionals and consultants on implementing effective data management processes.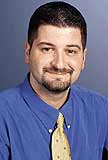 A healthy respect for the power of solid data management best practices is no longer solely the purview of chief information officers and the IT and data management professionals who work on their teams. Nowadays, company CEOs and their inner circles on the business side also must strive to become more data-driven or risk letting their organizations get stomped by the competition.
That was just one of the lessons learned while I was attending a pair of data management conferences on opposite sides of the country in late February and early March and speaking with IT pros, consultants, software vendors and, er, more than one airport bartender.
The first stop was the O'Reilly Strata Conference in Santa Clara, Calif., where consultant Diego Saenz offered advice on how to become a more data-driven CEO and company as a whole. For starters, he said, CEOs should focus on becoming strategic data planners and developing analytical skills -- with the ultimate goal being to foster organizations that are more responsive to customer needs and better equipped to spot new business opportunities.
The lineup of speakers at the Strata conference also featured John Mulholland, VP of enterprise data architecture at Fannie Mae, who discussed the mortgage financing giant's journey into the realm of data governance. The next stop on my journey was lovely Savannah, Ga., where I attended a TDWI Solution Summit focused on master data management (MDM) and data governance issues. One of the speakers there -- Michele Koch, director of enterprise data management and the data governance office at student loan provider Sallie Mae -- matched Mulholland in offering tips for other organizations on how to overcome obstacles to data governance success.
According to Mulholland, the biggest obstacle is steadfast resistance to data governance policies and procedures inside an organization. He said his team at Fannie Mae managed to overcome such resistance by educating employees about the benefits of data governance and data management best practices -- a task, he added, that can be aided by a dash of salesmanship. Koch, meanwhile, said she worked hard to ensure that all business units were involved when launching Sallie Mae's data governance program.
TDWI analyst Philip Russom and data management pros attending the TDWI event were also eager to share their thoughts on MDM best practices. In addition, speakers talked about how business users are driving MDM projects more than ever -- even if they don't realize that MDM is what they're after.
It was all in a month's work for the team at SearchDataManagement.com, where we travel the country so you don't have to.
--Mark
Twitter: @Brunola88, @sDataManagement
Each month, SearchDataManagement.com editors choose recent articles and other content to highlight here for our readers. We welcome your feedback on these items and our site in general -- you can contact us directly or at editor@searchdatamanagement.com.