News
Stay informed about the latest enterprise technology news and product updates.
From the Editors: Big issues for data management professionals to mull
For many data management professionals, the summer months likely will include thoughts – and some worries – about data integration issues and future career paths. Find out what's driving that.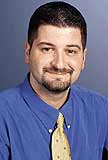 It's time to kick back and enjoy the summer, right? But many data management professionals are likely to spend at least part of the warm summer months worrying about data integration issues and their career paths, according to recent survey data and IT experts.
Our sister site, SearchBusinessAnalytics.com, surveyed its members recently and found that 44% of the respondents think data integration will be one of their biggest challenges on business intelligence (BI) projects this year. That represents a big increase from last year, when just 23% cited integration woes as a chief BI concern. In a Q&A on our site, consultant Rick Sherman discusses BI-related data integration issues and offers tips on how to overcome them.
At the same time, organizations seeking alternatives to extract, transform and load tools and database consolidation projects are becoming more open to less traditional forms of data integration, such as data virtualization, according to consulting firm Forrester Research Inc. As a result, Forrester expects demand for data virtualization technology to rise significantly over the next 18 to 36 months.
If data integration concerns weren't enough, the emergence of technologies such as cloud computing and columnar databases is creating new questions about where data management careers are heading. Consultant Laura Reeves predicts that in the future, the most successful data management pros will be those who can become business-savvy problem solvers – and that's no small order, she says.
All in all, it's clear that the data management set has a lot more to think about than swimming pools and margaritas this summer – and I'd like to know what else is on your mind. Shoot me an email and tell me your biggest work-related concerns. It's a good way to blow off steam, and your comments very likely will be featured in an upcoming news story.
--Mark
Twitter: @sDataManagement
Each month, SearchDataManagement.com editors choose recent articles and other content to highlight here for our readers. We welcome your feedback on these items and our site in general – you can contact us directly or at editor@searchdatamanagement.com.
Dig Deeper on Data virtualization and data federation