News
Stay informed about the latest enterprise technology news and product updates.
From the Editors: No lack of data management news – or annoying terms
Our latest news stories include coverage of the Gartner MDM Summit, where a session got us thinking about inaccurate and irritating data management phrases. What buzzwords bug you?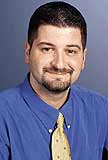 Last week was a busy one here at SearchDataManagement.com. First, we explored the data management mess that could result from the Dodd-Frank Act, which sets new regulations on Wall Street firms in an effort to avoid another financial meltdown. To ensure that they can comply with the law, financial institutions should take steps such as creating comprehensive data governance and master data management (MDM) programs, consultants say.
We also covered the latest update to the Informatica Cloud data integration platform, which adds new "hybrid IT" features for integrating in-house and cloud-based applications.
Then it was off to the Gartner MDM Summit in Los Angeles, where I talked to several data management professionals who said that corporate politics around the issue of sharing control of data is one of the biggest obstacles to MDM success. In addition, I heard Gartner's predictions of a blossoming relationship between MDM systems and cloud computing technology – and social networks, even.
During one particularly interesting session, Gartner analysts talked about the inherent inaccuracy of the phrase "Big Data." That's an issue I recently spoke about with Gartner's Donald Feinberg. "The word 'big' means big volume," Feinberg said. "But when you look at the problems that the concept of Big Data is addressing, you find out that it's not just volume. It's volume AND velocity, variety and complexity."
The conversation got me thinking that there's no shortage of such phrases in the IT industry. For example, "data services" bothers me because it has several incarnations – some that mean the same thing, some that mean different things.
What do you think are the most annoying data management buzzwords and phrases, and why? Send me an email with some suggestions, let me know who you are and what you do, and there's a good chance that your opinions will appear in an upcoming article.
Have a great week!
--Mark
Twitter: @Brunola88


Each month, SearchDataManagement.com editors choose recent articles and other content to highlight here for our readers. We welcome your feedback on these items and our site in general – you can contact us directly or at editor@searchdatamanagement.com.