News
Stay informed about the latest enterprise technology news and product updates.
From the Editors: End of HP Neoview means challenges for users, and us
Hewlett-Packard's decision to drop its HP Neoview data warehouse platform has created big challenges for Neoview users and IT reporters. Learn more about the demise of HP Neoview.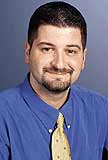 Hewlett-Packard's decision to pull the proverbial plug on its HP Neoview data warehouse platform was less than surprising because details about the planned kiboshing had been leaking out for months. But it was big news in the data warehousing industry, and HP's initial silence on the matter presented this reporter with a challenge. And I do enjoy challenges.
In December, Ventana Research's Mark Smith wrote a blog post stating unequivocally that HP had decided to get out of the Neoview business. But he didn't get an official confirmation from HP. So I set out to try and do just that. It was a process that involved a lot of "beating the bushes" and numerous off-the-record conversations – the kind of stuff that reporters love. We also managed to get a copy of an internal HP memo that the company later verified as authentic.
After weeks of back and forth with two sources within HP, they finally agreed to an interview in which they confirmed that HP was axing Neoview after four years of disappointing sales and would instead focus on a data warehouse partnering strategy.
We've since run three stories detailing Neoview's demise and HP's change in strategy. Our coverage included reaction from industry analysts who said that the technology was high-priced and poorly marketed, plus feedback from HP partners and competitors and advice for Neoview users who are now tasked with planning an exit strategy before HP cuts off support in 2014.
I'd love to hear your thoughts on HP's decision to drop Neoview. Did HP officials make the right decision? Are Neoview users in trouble? Have you ever been in a similar situation? Feel free to email me and let me know what you think.
--Mark

Each month, SearchDataManagement.com editors choose recent articles and other content to highlight here for our readers. We welcome your feedback on these items and our site in general–you can contact us directly or at editor@searchdatamanagement.com
Dig Deeper on Data warehouse appliance technology