News
Stay informed about the latest enterprise technology news and product updates.
Business Intelligence Environments: The Need for Mobility
Business intelligence on the move.
This article originally appeared on the BeyeNETWORK.
More and more today, we see companies adopting a "virtual" or "mobile" employment strategy where workers need not be present at the company offices. Indeed, we have had mobile sales and service personnel for a long time. This is just an extension of the situation to include analysts, financial planners, strategists and others who must have access to critical business intelligence information. Mobile BI is becoming an important part of the BI environment for forward-thinking corporations who see that wireless networks eliminate the physical constraints of wired networks by using radio frequency technology
Most BI users are empowered to access, analyze, and share information if they are sitting at their desks or lucky enough to access data from a hotel room using dialup connectivity. Most IT support personnel who manage the BI environment must also be sitting at their desks or gain access through dialup connections at home. Once either unplugs, he or she is virtually back in the dark ages. We now need to apply wireless technologies to our BI environments. Without these new technologies, we are still chained to our wired environments and become blind to critical business changes once we unplug.
The ability to use mobile devices for business intelligence is not new. We have had the ability to broadcast BI results to pagers, cell phones and PDAs for years. But the ability was very limited in that it was usually a push form of technology. The BI results were sent out either on a scheduled basis or when some trigger caused them to be broadcast. The recipient could not control when these broadcasts would occur. Also the amount of data sent was limited and the ability to do any kind of analysis was also restricted.
The problem was not with the BI technology but rather was with the limitations of the telecommunications infrastructure. We could have done much more than just broadcast if the networks permitted more than just unconfirmed broadcasts. What was really needed was some form of two-way dialog with the BI environment. Once one received a piece of BI data, the natural next step was to ask why and for more information. This was not possible in the broadcast environment. This limitation cast a pall on the excitement surrounding mobile business intelligence. The limitations were very frustrating and the users shrank to small numbers.
To add to the frustrations, the push technology required the business user to identify what they wanted before they wanted it. Not many users can precisely identify what data they will need and when! If something happened during the day, a perturbation in the business, the user could not readily change what was to be sent to his mobile device -- not very useful in our ever changing world.
Over the years though, the network infrastructure has matured and become much more sophisticated in its capabilities. Today, it has truly overcome many of the earlier limitations of push technology. In addition, the mobile devices have also gained in their level of sophistication, ease of use, storage capability, etc. We now have wireless Internet with wireless application protocol (WAP), sophisticated receiving devices (PDAs, cell phones, etc.), and the ability to plug in, synch up, unplug and go – with the ability to perform all the traditional "plugged-in" analytics as well.
Some industries are further ahead than others in terms of their mobile BI requirements. Retail, financial institutional, healthcare, and manufacturing industries seem willing to push the edge of mobile technologies and business intelligence to give their mobile workforce access to critical data. Companies with a high number of mobile sales and service personnel are also embracing this technology.
The ultimate goal is for the mobile user to have a similar analytical experience as their wired peers – a back and forth "conversation" in which the mobile user can query, then drill up, down, around, etc., within the BI application. To this end, it is useful to qualify the various mobile business users. IDC has defined four such groups as[1]:
Display Mavens: individuals who deliver large number of presentations while mobile and use, to a moderate degree, entertainment applications during periods of idleness;
Mobile Elite: early adopter segment that adopts latest devices, applications, and solutions, and uses broadest number of them;
Minimalists: opposite of the Mobile Elite, these individuals employ just the basics for their mobility needs; and
Voice and Text Fanatics: more communications-centric group of individuals who tend to be focused on text-based data and messaging
The need of the business community for mobile Business intelligence is obvious, but there is another important group of mobile users in the enterprise – the mobile IT worker. In the rush to get mobile technology in the hands of the business community, don't forget that IT implementers also need wireless capabilities to implement, maintain and sustain the BI environment. IT has been thrust into limelight as a key element in advancing strategic business objectives and certainly mobile business intelligence plays a major role in achieving these objectives. Therefore, IT must have its own set of mobile BI capabilities to maintain and sustain the overall environment.
For mobile business intelligence to be feasible in your enterprise, you must have a solid basis from which to grow these new capabilities. Many environments just don't have sufficient applications up and running yet or they don't have sophisticated business users who truly depend on the BI applications to do their jobs. In particular, the BI architecture must be mature enough to allow the perturbations that mobile business intelligence will inevitably bring to it. Changes will have to be made such as new skill sets, roles, responsibilities, as well as new technologies incorporated into your architecture, before you can take advantage of the mobile BI world.
Immature or poorly designed BI architectures will almost surely spell disaster for mobile business intelligence. The complexity of the mobile BI architecture requires a solid BI architecture behind it – one that is flexible enough to accommodate these new technologies and yet is mature in the data and capabilities it offers. The Corporate Information Factory (CIF), depicted below, is a conceptual architecture that many organizations have used successfully to support traditional and mobile BI initiatives. It describes and categorizes the information stores that are used to operate and manage a robust decision support infrastructure.
These information stores support three high-level organizational processes: business operations, business intelligence, and business management. Taken as a whole, the CIF can be used to identify all of the information management activities that an organization conducts. It is just such an architecture needed for your mobile BI initiative. Understanding how all the various components in the BI environment interconnect with each other and having the data flows mapped out will give you a tremendous advantage when beginning the implementation of the mobile BI capabilities.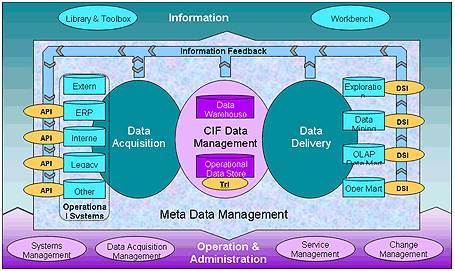 From various conversations with vendors and clients alike, I heard a number of times that companies about to implement mobile business intelligence must understand the business reasons for doing so. The tendency is to implement the capability without really understanding what it will do for the business or the BI environment itself. Keep in mind that the mobile devices do make it easy to send short, naïve queries in rapid succession which may place an unexpected burden on your BI technology to keep pace.
It is always advisable to start small, start simply, and start with proven technology. For mobile business intelligence, this is using the push technology that has been around for more than a decade. Once you have a good feel for the business usages of mobile business intelligence and you have a handle on the technological aspects, you can move into more sophisticated scenarios.
In my next article, I will touch on the various technologies that support mobile business intelligence. In addition, we will cover a number of tips and techniques to use in creating a sound and maintainable mobile BI environment.
Dig Deeper on Enterprise data architecture best practices