Joshua Resnick - Fotolia
Panera meets big data challenge of lunchtime operations
In the era of more and more digital orders, Panera Bread encountered big data challenges that led the restaurant chain to deploy a new cluster architecture with Hadoop, Spark and other technologies.
For Panera Bread, lunchtime usually starts around 11 a.m. on the east coast as sandwich orders begin filtering in. Things get progressively more hectic as hungry customers continue to arrive. The pace picks up as lunchtime rolls across U.S. time zones, moving west across the country.
It's a challenge for the restaurant chain's bread bakers and sandwich makers, of course. However, in this day of digital sales, it's also a challenge for Mike Steimel and his colleagues working on the technical side of the Panera experience. For them, the lunch rush is not just about food -- it's a big data challenge they have to meet.
That is because Panera has embraced digital alternatives, such as smartphone apps and in-store kiosks, that customers can use to place lunch orders. As recently as three years ago, there were no transactions of that type to speak of, according to Steimel, senior director of technology engineering at the St. Louis company.
Digital orders grow exponentially
"Now, there are 250,000 digital orders a day," Steimel said. The online surge happened as the chain also expanded a loyalty card program that now includes more than 25 million members, and as it introduced new smartphone-driven programs, such as a Rapid Pick-Up service for customers who are on the go.
Such digital transactions are a trend across industries -- and a very key part of Panera's planning as the company grows its business. Earlier this year, Panera announced that annual digital sales had surpassed $1 billion. It also projected that the digital sales portion of its business could double by 2019.
Such rapid growth has to be a concern for an engineering director such as Steimel. "We have to stay ahead from the technology perspective," he said.
Steimel discussed Panera's approaches to this big data challenge as part of a recent webcast on big data analytics produced by platform provider BlueData Software Inc.
Stress reduction via big data platform
Panera's first use of BlueData's software, which, in effect, containerizes big data applications for quick deployment, helped ease the stress data teams faced when building out active clusters running Hadoop ecosystem components, Steimel said.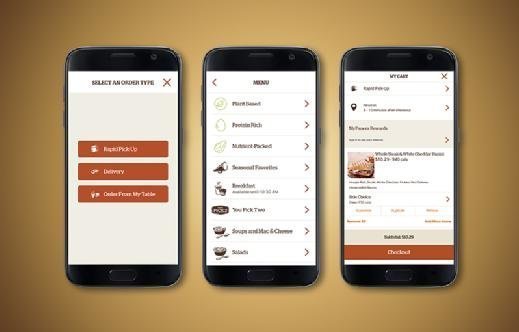 During the webcast, he described what he and his colleagues viewed as a big data analytics problem. They had to gather data on operations from a variety of sources, land them in a data lake and correlate the data in order to do effective capacity planning to ensure Panera could handle the many digital orders that were now a part of its lunch operations.
It became critical to look at a lot of indicators to be sure of the way we calculated the breakpoint.

Mike Steimelsenior director of technology engineering, Panera
Panera's collection of new-age data tools is as varied as its lunch menus, and deployment must be carefully managed. Hadoop ecosystem technologies used by Panera include Apache Kafka and Spark, as well as Cloudera Impala. Also employed are Cisco and Dell EMC computing, networking and storage infrastructure.
The BlueData software, which systematizes the spinning up of Hadoop or Spark clusters on Docker containers, helped as the team sought to regularly and quickly estimate the point at which the lunchtime digital ordering system might fail -- the moment Steimel calls "the breakpoint."
Key indicators highlight the breakpoint
"It became critical to look at a lot of indicators to be sure of the way we calculated the breakpoint," he said.
Scoping decisions had to be made along the way, of course. To get things rolling, the Panera team started with just three key indicators in lieu of what Steimel, like others, would describe as "boiling the ocean."
Next up for Panera are big data applications for marketing and HR department needs, according to Steimel. He said he expects containerized deployment environments such as BlueData's to prove increasingly useful there.
Clearly, he looks forward to rolling out a variety of Hadoop-style components for new applications, even though each new application will bring its own big data challenge.