Share this item with your network:
Technology insights for the data-driven enterprise

Kesu - Fotolia
Business intelligence app integration, self-service deemed must-haves
Businesses must either disrupt or be disrupted. One way to do the former is to integrate sales intelligence apps and make them self-service. Sound difficult? It doesn't have to be.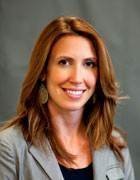 By
Application integration and delivery used to be the domain of IT departments, but the iPhone generation of employees accustomed to seeing an app, downloading it and, with a few clicks, connecting it to data on their devices expect the same plug-and-play experience in the business world.
Unfortunately, enterprise application integration isn't easy, particularly when it involves mixing cloud apps developed in the age of open APIs with proprietary business applications that may be highly customized. There's an entire market built around integration complexity, and it's filled with consultants and specialized tools to make application integrations work.
That costly approach to app integration is changing because application silos limit the usefulness of data, said Sean Freeburger, managing director of business applications for Accenture's internal IT organization. Indeed, companies expect their enterprise apps to talk to one another and provide comprehensive business intelligence. That means even legacy vendors known for closed, proprietary systems have to learn to play nice.
"The cloud is shaking up the Oracles and SAPs of the world because [it] allows integration -- you absolutely have to [support integration], and the laggards are trying to figure out how," Freeburger said. "We are far from plug and play, but that's what the world demands, and that is the direction we are headed."
Even though more and more applications are being installed, Gartner predicts 90% of organizations will lack a "postmodern" application integration strategy through 2018, which will lead to integration disorder, greater complexity and higher costs.
Cloud apps pave the way to integration
Today, companies can tie a cloud-based business intelligence app from providers such as Salesforce into their existing infrastructure to connect employees, partners and communities. There are also third-party platforms that integrate various business apps, on-premises or in the cloud, for companies without the technical staff to do it on their own.
Cloud apps and integration tools for non-techies are especially growing in importance. More and more people conduct business through their mobile devices and access a cloud-based business intelligence app on those devices from anywhere. Companies such as Unilever, a massive consumer goods company based in the Netherlands, rely on Salesforce for just that purpose, said Keith Block, president and COO of Salesforce, speaking at the Salesforce World Tour event in Boston in April.

"It's imperative we become smarter and closer to our customers. Smarter [through] predictive analytics, machine learning and [artificial intelligence]," Block said. "We all walk around with these mainframes in our pockets, and they are very powerful."
There's a growing trend of companies looking to integrate sales intelligence tools that employees can access and use in multiple scenarios. For a business review meeting, Freeburger noted, you might want to show some visuals of data analysis and be able to use that information elsewhere. "You have to have a nature of open information through multiple channels," he said.
Self-service tools connect the dots
The most valuable sales intelligence comes from combining data that's held in multiple applications, locations and services, but connecting all that data can be a challenge. There are a host of cloud-based integration platforms, otherwise known as iPaaS, to help companies do just that, including Dell Boomi, Informatica, Jitterbit, MuleSoft and SnapLogic (see "Finding the Right Platform").
Not all of the iPaaS providers offer self-service, however. Jitterbit, for example, is moving toward self-service capabilities for non-technical users, but market experience is limited, according to a review of the company's product in Gartner's 2016 Magic Quadrant report on iPaaS vendors. Informatica's iPaaS, on the other hand, can be used by a wide range of users who need self-service in analytics and operational activities that involve big data and digital environments, Gartner reports.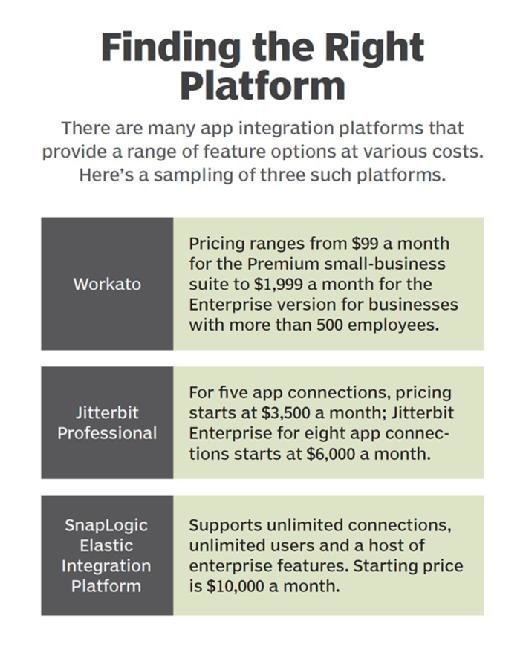 The self-service component is an increasingly important piece of the puzzle -- especially for analytics. The business analytics market in particular has shifted from "IT-led system-of-record reporting to business-led self-service analytics," according to Gartner, resulting in a number of business intelligence apps and analytics tools that provide accessibility, agility and deep insight into data.
"Business intelligence is speeding up and becoming more consumable through applications, not just after-the-fact analytics, but real-time information that can be used to take action quickly," said Vijay Tella, a computer scientist and founder of Workato, a cloud automation and integration platform.
While sales intelligence apps from cloud companies such as Salesforce are made to integrate easily, that isn't the norm -- at least not yet. However, there are easy-to-use integration tools that do the complex work of tying siloed business apps together to provide intelligence.
Workato offers an app integration service that allows users with limited technical skills to get the information they need through "recipes" that mix and match the right apps to cook up intelligence. A user, for instance, can tie Salesforce to Intuit's QuickBooks, so when a new opportunity is created in Salesforce, a new customer invoice automatically populates in QuickBooks. This example may be simplistic, but there are recipes for multiple app combinations that the average user would find very difficult, or impossible, to integrate on their own.
"It used to be that for every dollar you spend on an integration tool, you'd spend five dollars on the system integrator to make it all work," Tella said. "That model doesn't work today; it needs to be self-service."
Many of Workato's 12,000 customers use the software to augment customer relationship management, lead automation, sales organization or back-end automation of their accounting systems. The company supports 150 applications so far, with deep integrations in Salesforce, QuickBooks, Replicon, Zendesk and many other business intelligence and productivity tools.
H2O.ai, maker of the open source machine learning platform H2O, uses Workato for data-driven marketing. H2O.ai collects data from four different sources -- Dropbox, Eventbrite, Intercom and Salesforce -- and adds it into Marketo Inc.'s platform automatically. H2O.ai is then able to push data from Marketo into Slack, a real-time communication platform its employees use regularly.
Marc Mastrocola, director of marketing operations at H2O.ai and who is responsible for integrating systems, attempted app integration with user-friendly tools such as Zapier but liked Workato's easy handling, added capabilities, price, and speed to market. "I needed complex integration to say, when one transaction happens, look up the lead -- to connect the triggers," explained Mastrocola, who is also a Salesforce administrator and Marketo Certified Expert. "We talked to an integrator about doing custom integrations, and they suggested Workato. Within a few days, we had integration."
Marketo and Salesforce natively integrate, but Eventbrite doesn't integrate with Marketo, nor did Dropbox -- at least not in a good way, Mastrocola acknowledged. He built those integrations through Workato, he said, with minimal help from the software provider's support team. "The integration is a huge time saver that allows me to focus on other areas instead of wasting hours doing repetitive tasks," he added.
Mastrocola claims that the platform works just as well as if he paid a "high-end integrator that costs an arm and a leg," and, if there is a problem, he's empowered to fix it himself. "Custom integration takes longer, costs more, and if it breaks, you have to call that integrator and pay them more to fix it," he reasoned. "With this, if something 'breaks,' as things do when you integrate them … I can go in and see why it happened, make a change and fix it quickly."
Challenges of a tangled app web
Akamai Technologies Inc., a content delivery network services provider, is a prolific Salesforce user. The company relies on services such as Sales Cloud, FinancialForce and Service Cloud to monitor and guide customers, and the accumulated data is presented in Salesforce Wave, according to Paul Fernandes, vice president of lead to cash applications at Akamai, who also spoke at the Salesforce World Tour event in Boston. "Wave isn't just a dashboard off to the side; it allows us to bring data in to find insights, like about how much time customers spend on a competitor's network," he said. "It allows us to drill down to the transactional level."
That type of business intelligence app platform is useful, but there's a catch: Akamai has aggressive requirements for uptime and disaster recovery -- higher than Salesforce's service-level agreement. Tying its business in with a cloud provider that doesn't guarantee the same level of uptime is a problem the company is working to solve. "Our customers expect 100% uptime. The further we have embedded with Salesforce -- [their] uptime isn't 100% -- so we need to figure out how to get close to that," Fernandes said. "We aren't quite there, but we are getting closer."
They're getting closer through Salesforce's Mission Critical Support (MCS), which provides Akamai with a dedicated resource. With MCS, Akamai's response time went from 30 minutes to about five minutes, according to Fernandes.
While that kind of improvement is significant, any downtime can cause a serious hit to a company's bottom line, especially when it means employees don't have access to the intelligence they need to close deals. Therefore, businesses have to take a hard look at service levels, Accenture's Freeburger said. "The old world of batch and apps being down is going away because so many things are tied together; everything has to be up and running almost all the time," he explained. "In general, our principle is that the system has to be up all the time because of the interconnectedness of the enterprise."
Cloud providers know they have to offer service levels above what the average IT shop can manage, and they're working behind the scenes to make sure they do, Freeburger added. But as many companies that rely heavily on cloud-based applications have come to realize, downtime happens. And like it or not, when a public cloud service goes down, there isn't a lot your IT team can do about it.
However, companies can prepare for a business intelligence app integration project on their end by ensuring the right infrastructure is in place, identifying weaknesses and planning for failure points up front, Freeburger said.
Dig Deeper on Enterprise application integration software