Get started
Bring yourself up to speed with our introductory content.
Relational database management system guide: RDBMS still on top
While NoSQL databases are getting a lot of attention, relational database management systems remain the technology of choice for most applications. And RDBMS vendors have new tricks up their sleeves to boost performance.
Introduction
Relational databases have enjoyed a long run as the database mainstay across a wide variety of businesses, and for good reasons. They're relatively easy to create and use, and they offer reliable performance in both transaction processing and business intelligence applications, with support for transaction and data integrity. However, relational databases haven't necessarily adapted well to changes in the types and quantities of data now being generated, such as the unstructured data that is prevalent in big data applications. In addition, expanding traditional databases to accommodate rapid growth is costly.
As a result, NoSQL database technologies are challenging the monopoly of the relational database management system. There are a number of NoSQL database options, all developed to fulfill particular purposes that RDBMSs aren't designed to handle. Many organizations are finding new freedom in having so many choices when it comes to database architectures. Yet, despite their modern designs and efficiency in managing large data sets, NoSQL databases aren't the right fit for all projects -- and they aren't likely to oust relational software from the top database perch any time soon.
Depending on your business goals, traditional databases, NoSQL databases or a hybrid of the two may be best to deliver the most value. The articles and videos in this guide examine these technologies from different perspectives and explore the case for the ongoing relevance of relational databases.
1

Relational databases

-
Relational technology still rules database roost
Large Internet companies like Facebook, Twitter, LinkedIn and Netflix are well-known users of NoSQL database technology, as it works well with the large data sets they need to manage. However, many organizations find that traditional databases are still best for their business needs. In this section, learn how relational database technologies are holding their own in the database world by evolving to meet higher levels of efficiency as well as specific business needs for various companies -- even Facebook.
2

NoSQL databases

-
NoSQL software chips away at RDBMS dominance
While myriad NoSQL database options have emerged to help businesses address big data requirements and scalability concerns, they aren't full replacements for traditional databases. Some companies are choosing NoSQL systems to support big data applications in completely non-relational environments, but others are combining them with a relational database management system or data warehouse -- an approach that illustrates the frequent use of NoSQL to mean "not only SQL." The articles in this section examine the varied roles of NoSQL technologies and how they relate to mainstream relational databases.

Download this free guide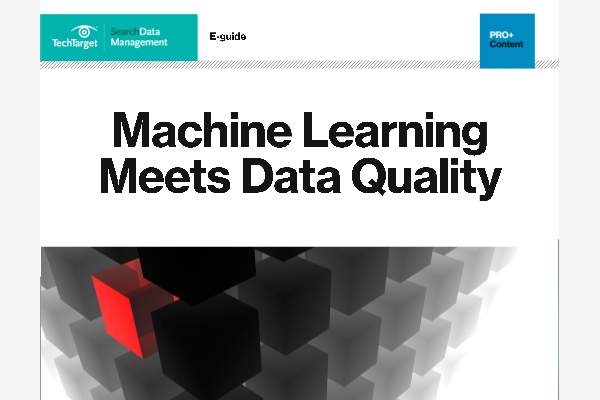 Free Guide: Machine Learning Meets Data Quality
Read an exclusive interview with Andrew Burt, chief privacy offer and legal engineer at Immuta Inc., on data governance and machine learning integration. Plus, uncover steps IT managers are taking to improve data quality in their big data environments in order to ensure analytics accuracy.
3

Videos

-
Experts talk RDBMS, NoSQL and big data
In this section, consultants and other speakers offer insight and advice on topics including the choice between relational and NoSQL databases, using Oracle databases in the big data era and building mixed data management architectures in the age of big data.
4

Glossary

-
Database terminology
These definitions help clarify the distinctions among various database systems.
5

Quiz

-
Quiz yourself on RDBMS and NoSQL
Take this brief quiz to test your knowledge of relational databases and NoSQL technologies.
Take This Quiz