 BACKGROUND IMAGE: iSTOCK/GETTY IMAGES
Definition
master data management (MDM)
Master data management (MDM) is a comprehensive method of enabling an enterprise to link all of its critical data to a common point of reference. When properly done, MDM improves data quality, while streamlining data sharing across personnel and departments. In addition, MDM can facilitate computing in multiple system architectures, platforms and applications.
The benefits of master data management increase as the number and diversity of organizational departments, worker roles and computing applications expand. For this reason, MDM is more likely to be of value to large or complex enterprises than to small, medium-sized or simple businesses.
When companies merge, the implementation of MDM offers challenges, as various units consider the meaning of terms and entities intrinsic to their businesses. But, in mergers, master data management offers benefits, as it can help minimize confusion and optimize the efficiency of the new, larger organization.
For MDM to function at its best, personnel and departments must be taught how data is to be described, formatted, stored and accessed. Frequent, coordinated updates to the master data record are also essential.
Architecture and benefits of MDM
Master data management is intended to bring a systematic approach to data integration that ensures consistent use and reuse of data. Customer data, particularly, is a concern, and this concern is aggravated by recent introduction of unstructured web activity data to a long list of data types found in customer profiles.
As big data architectures find greater use, the types of data in organizations grow haphazardly in structure, with the traditional hallmarks of poor data management -- data duplication, incomplete data and error-filled records -- continuing to be common. Master data managers set out to address these issues by, among other things, establishing a reliable data dictionary for use across systems and providing means to enforce standard terminology.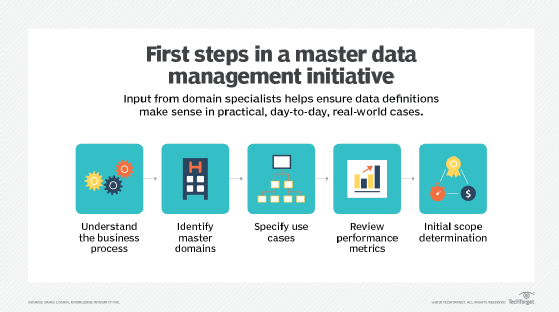 As systems of record and customer engagement applications expand in use, companies find they have no single clear view of a customer. Transactional systems, analytical data warehouses and, more recently, interactional data from web activity provide different views of the customer, but ultimately, business users look for a single accurate view of that customer.
Master data management is intended to provide such a view via systems that effectively consolidate data from multiple system sources. At the same time, the MDM system typically is configured to give data stewards -- that is, individuals charged with implementing MDM efforts -- a federated view of data across the organization so that standard approaches to treatment of data are maintained.
MDM systems typically include large repositories for master data storage. They also include change management and data pipelines, as well as workflow and collaboration facilities.
Along with customer-centric capabilities, MDM systems also include product, supplier and partner master data, with specialized master data systems targeted at special use cases, such as procurement or healthcare.
In recent years, aspects of MDM have come to be associated with metadata management, a related technology discipline that organizes descriptive "data about the data" in the organization. Also underlying some MDM implementations are data virtualization architectures that employ a data abstraction layer that enables data access without physical data movement.
Practices of MDM
A general view holds that master data management is as much an organizational or "people" issue as it is a technical issue. MDM projects usually start with initial evaluations and intradepartmental meetings that can prove to be contentious. As different departments argue through how they treat data within their purviews, MDM efforts can lose momentum.
An often mentioned obstacle to successful MDM implementation is scoping; since data touches every aspect of most modern organizations, master data management efforts can become unwieldy if the overall plan doesn't account for proper staging of project steps.
Also, while data specialists within IT or lines of business are charged to oversee such projects, the contributions of domain specialists are most crucial to creating cross-organization data definitions, but attention to data governance details can be overlooked going forward as these specialists strive to meet their daily work obligations.
Connecting data assets and the benefits of MDM to overriding corporate goals is commonly cited as a best practice for the MDM effort, as management buy-in is needed to maintain funding for MDM work overtime.
Experts argue that MDM must be addressed as an ongoing discipline rather than a one-off project.
Compliance mandates, such as the Sarbanes-Oxley Act (SOX) and the Health Insurance Portability and Accountability Act (HIPAA), have led to spikes in interest in MDM, and the EU General Data Protection Regulation (GDPR) has arisen as another driver for master data management. But critics have suggested that establishing ongoing MDM programs remains problematic. Some organizations have established centers of excellence or competencies for MDM in order to build such advanced data management into regular business processes.
Continue Reading About master data management (MDM)