Definition
RFM analysis (recency, frequency, monetary)
RFM (recency, frequency, monetary) analysis is a marketing technique used to determine quantitatively which customers are the best ones by examining how recently a customer has purchased (recency), how often they purchase (frequency), and how much the customer spends (monetary). RFM analysis is based on the marketing axiom that "80% of your business comes from 20% of your customers."

Download this free guide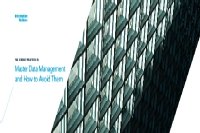 8 Worst Practices in MDM and How You Can Avoid Them
Master data management (MDM) depends on the alignment and partnership between business and IT because both groups are responsible for improving data quality, accuracy, and streamlining data sharing across the enterprise. To help your organization along the journey to a successful MDM program, here are 8 worst practices in MDM and how you can avoid them.
For more than 30 years, direct mailing marketers for non-profit organizations have used an informal RFM analysis to target their mailings to customers most likely to make donations. The reasoning behind RFM was simple: people who donated once were more likely to donate again. With the advent of e-mail marketing campaigns and customer relationship management software, RFM ratings have become an important tool. Using RFM analysis, customers are assigned a ranking number of 1,2,3,4, or 5 (with 5 being highest) for each RFM parameter. The three scores together are referred to as an RFM "cell" . The database is sorted to determine which customers were "the best customers" in the past, with a cell ranking of "555" being ideal.
Although RFM analysis is a useful tool, it does have its limitations. A company must be careful not to oversolicit customers with the highest rankings. Experts also caution marketers to remember that customers with low cell rankings should not be neglected, but instead should be cultivated to become better customers.
Continue Reading About RFM analysis (recency, frequency, monetary)
Dig Deeper on Data mining and predictive analytics