News
Stay informed about the latest enterprise technology news and product updates.
Strengthening Data Preparation with Data Virtualization
Self-service analytics allows users to design and develop their own reports and do their own data analysis with minimal support by IT. Most recently, due to the availability of tools, such as those from Qlik, Spotfire, and Tableau, self-service analytics has become immensely popular. Lately, self-service data preparation capabilities have become available which extend the existing analytical and visualization capabilities of self-service tools.

Download this free guide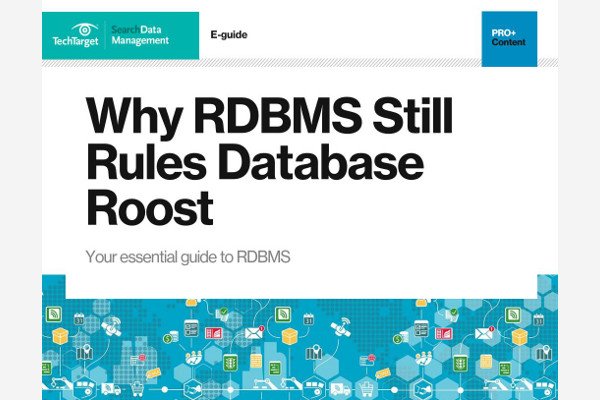 Download: Why RDBMS Still Rules Database Roost
This exclusive 60-page guide explores why you shouldn't get distracted by new DB technology, how Facebook is using a RDBMS to do the data slicing and dicing they can't in Hadoop, and much more.
Self-service data preparation guides users in understanding the data and the data structures. Users don't have to study what the best way is to integrate two data sources or to find out which data values are potentially incorrect. All this is done automatically by the data preparation tool. In general, it becomes easier for users to analyze files and data stores that are completely new to them. Even for such data sources, they don't have to call IT for help with the integration of data sources. In a nutshell, data preparation is a valuable enrichment of the palette of self-service capabilities.
As we all know, self-service analytics hasn't replaced all other forms of reporting and analytics, such as standard reporting, embedded analytics, ad-hoc reporting, and mobile BI, but complements them. Self-service analytics is one of the many forms of analytics. All these forms can be divided in two categories: IT-driven BI and Business-driven BI. Self-service analytics belongs to the second category.
The challenge for organizations is to let self-service analytics cooperate with all the IT-driven BI forms. In other words, self-service analytics has to become a fully integrated part of the larger BI environment by bridging the gap between self-service analytics and the other BI forms. This means two things. First, reports initially developed by the business may have to be migrated to the IT-driven BI environment later on. This is referred to as operationalization of self-service reports. Second, reporting specifications developed by IT must be shared by users of self-service tools. For example, the integration of data sources may be so complex that the specifications are developed by IT specialists and are handed over to business users to be used for self-service analytics. In this situation, IT enables business-driven BI.
To bridge the gap between IT-driven BI and Business-driven BI, self-service analytics has to cooperate with data virtualization technology. Four different scenario's exist of how they can cooperate:
Make data virtualization a data source for self-service analytical tools. This allows users to access a wide range of data sources, including SQL databases, XML documents, Excel spreadsheets, Hadoop and NoSQL, web services, and applications.
Use data virtualization to make results developed with self-service tools available for all users, including the ones that do not develop reports themselves; reports are shared across BI-driven and IT-driven BI.
Use data virtualization to operationalize user-defined reports and results, allowing specifications developed with the self-service tools to be executed by the data virtualization server.
Let IT specialists use self-service data preparation functionality to develop data virtualization views when new, unfamiliar data sources have to be hooked up to the data virtualization server. This shortens development time.
To summarize, it's time that BI departments take user-driven, self-service analytics out of its isolation, and integrate it with the rest of the IT-driven BI forms. The solution is to let self-service analytics cooperate with data virtualization technology. For more detailed information, we refer to whitepaper Strengthening Self-Service Analytics with Data Preparation and Data Virtualization.