News
Stay informed about the latest enterprise technology news and product updates.
Corporate Information Factory (CIF): The value of a conceptual architecture for BI
This CIF architecture acts as a road map or plan guiding the IT developer in implementing a Business Intelligence environment.
This article originally appeared on the BeyeNETWORK.
Continue Reading This Article
Enjoy this article as well as all of our content, including E-Guides, news, tips and more.
By submitting your personal information, you agree that TechTarget and its partners may contact you regarding relevant content, products and special offers.
You also agree that your personal information may be transferred and processed in the United States, and that you have read and agree to the Terms of Use and the Privacy Policy.
My family and I are currently in the throes of remodeling our home. Through this exercise, I have come to appreciate the power of having a conceptual model of what you eventually want in addition to a technical one. For our home, we have the architect's mock up of what the house will look like, post-implementation. It shows how all the rooms flow into each other, gives us a solid idea of how everything will work together without going into a lot of detail. With one glance, I have the high level view of the entire house. I can determine what each component is, how it interacts with the other components and whether there is proper "feng shui" (whatever that is), etc.
After we enthusiastically approved the architect's version of our new home, he handed that drawing off to the builder. The builder's job was to convert the conceptual model into a very technical rendition, which included a description of the materials to be used, the exact measurements of each component, specific geographic information right down to the location on each wall for light switches, the exact placement of the stove, refrigerator, fireplaces and so on. All had to be included in this very technical, very physical set of plans. The builder's plans went on for pages – each one showing a different section or version of the house – elevations, exteriors, interiors, top down, bottom up – you get the picture. In all versions though, the builder continuously referred back to the architect's drawing to ensure that he was fulfilling the goals and objectives described in it.
During the construction of our home, we have made several changes to the physical layout of the house. We changed the height of a window, swapped out an expensive kitchen appliance for another, moved the location of light switches to better suit ingress and egress, etc. But through it all, the conceptual architecture also served as our guiding light, ensuring that when we changed one component, we did not negatively affect another component.
By now you are wondering why I am going on about this. It has to do with business intelligence (BI) environments. Whenever a complex undertaking is begun, such as a new set of applications to support your BI initiative, the first step requires the creation of a high-level plan or architecture of what the ultimate product or environment will be. This Corporate Information Factory (CIF) architecture acts as a road map or plan guiding the IT developer in how all the parts and components interact and cooperate together. The conceptual architecture for BI is called the Corporate Information Factory (CIF):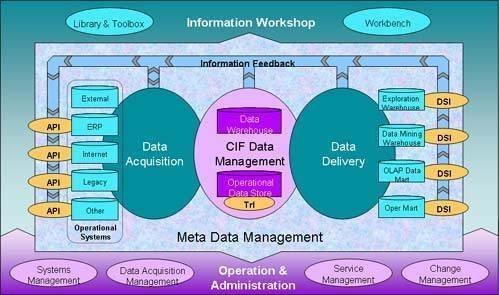 The CIF is a conceptual or logical architecture. Its sole purpose is to describe the components used to deliver BI capabilities driven by data provided from operational systems. Much like my architect's rendition, the conceptual version of the CIF identifies all the components ultimately needed in a BI environment. It describes how the various components fit together, the flows of data between them and the overview of what the ultimate environment will look like. Anyone who embarks on the implementation of a BI environment creates a conceptual architecture of sorts. Some BI implementers are more formal about this architecture than others. My own experience is that the more formal this conceptual architecture is, the better the finished product will be. Just don't lose sight of the fact that there is one and only one conceptual architecture.
Once this conceptual version is created, then it is time to begin creating the builder's version or the physical architecture. How you physically implement the CIF is up to you, your company's politics and culture, the business community and their requirements and your IT department's technological leanings. There are no two physical implementations of the CIF that are alike.
We are fortunate that we have so many technological solutions for the CIF available today for our physical implementations. All have their pluses and minuses so make sure you understand both before creating the physical environment. Let's talk about a few of these new technologies:
Virtual data marts – If you have a data warehouse in place, you now have a choice of either building a physically separate and distinct mart from the warehouse or creating a virtual one through views.
Virtual ODS – If a physical ODS is not feasible or not recommended for various reasons, you now have the ability to create a virtual one through EII or similar types of technologies.
Exploration marts – Data appliances and database compression technologies now permit truly ad hoc environments, formally thought to be only possible through accessing the data warehouse itself.
Oper marts – Tactical analysis can be accomplished through these temporary structures that obtain their data from the ODS.
Just as our builder gave us multiple views of our new house, you must do the same for your physical instantiation of the CIF. The ultimate technical architectures may change over time. You may replace certain technologies with other ones, swap out one type of mart for another or add a new component like an oper mart. Through all these changes, your conceptual architecture remains the guiding light ensuring that all the changes and new additions fit gracefully within the existing architecture and its components. It is the conceptual CIF that ensures that you do ultimately build an environment both sustainable and maintainable that meets the goals of the business users.
Dig Deeper on Data virtualization and data federation
PRO+
Content
Find more PRO+ content and other member only offers, here.