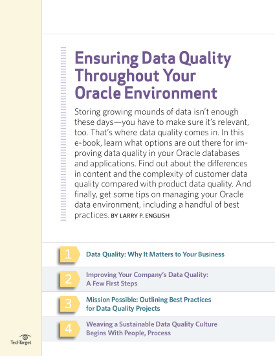 Data quality woes in your Oracle DBs and apps?
Storing data is no longer the key concern. It's now all about the "quality of your data."
And with data volumes continuing to grow daily, it's critical that you learn what options are out there to improve your data quality within your core Oracle DBs and applications.
Download your complimentary E-Book for key steps you can apply right now to improve your Oracle environment:
Data quality: Why it matters to your business
Improving your company's data quality: A few first steps
Mission possible: Outlining best practices for data quality projects
Weaving a sustainable data quality culture and why it begins with people, process
This was first published in October 2013