Essential Guide
Structuring a big data strategy
A comprehensive collection of articles, videos and more, hand-picked by our editors
It takes more than technology to achieve big data success
Organizations mulling a big data initiative should forget the hype, come up with a solid business case and put the right team together.
FROM THE ESSENTIAL GUIDE: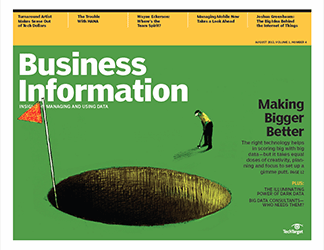 Download
Zions Bancorporation gathers huge amounts of data each day -- customer details and information about online deposits and withdrawals, for example -- then feeds it all into a 1.2-peta-byte-and-growing Hadoop-based repository. The records are then analyzed to uncover anomalous patterns that may indicate fraud, theft or other criminal activity.
But it takes a lot more than headline-grabbing technology like Hadoop -- the Apache Software Foundation's popular distributed processing framework -- and related software to turn vast amounts of structured and unstructured data into insight, and that insight into action.
The problem begins with big data itself. In many cases, it is in fact big -- vastly, hugely, mind-bogglingly big, as sci-fi writer Douglas Adams might put it. And it often consists of more than conventional transaction data -- system and network logs, sensor data from industrial equipment, social network posts and other text data. Then comes the challenge of spotting glimmers of useful info amid that enormous space and sprawl. It's one thing to collect big data; finding business value in it is a much bigger undertaking -- one that could make your head hurt and burn a hole in your organization's budget.
Contrary to what many technology ads would have buyers believe, achieving a great return on investment is also about creating the right team, putting a solid business strategy in place, being agile and testing -- lots and lots of testing, according to Zions and others who use Hadoop, NoSQL databases and similar tools that have come to define the burgeoning era of big data computing.
At Zions, which first launched its fraud analytics program nine years ago, achieving big data success is a moving target that requires both advanced technology and keen intellect. Finding needles of useful information in haystacks of data has become more formidable as data volumes have exploded over the past decade. But Zions' bank fraud and security analytics team has worked continually to build and refine statistical models that have repeatedly helped bank executives predict, identify, evaluate and -- when necessary -- react to suspicious activity.
"People see all the advertisements and think big data can even clean your house for you," said Michael Fowkes, senior vice president for fraud prevention and security analytics at Zions. "But I believe that we've had success because we've approached this as a team."