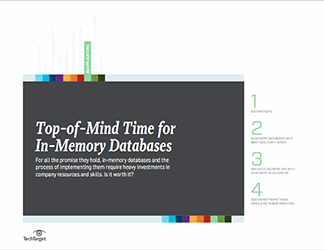 Sponsored by SearchDataManagement
Historically, in-memory databases have been seen as a niche technology. As in-memory processing becomes less expensive and more mainstream, however, potential uses are expanding. And, with the promise of deeper data analysis -- and, better business benefits -- IT professionals' ears are pricking up. Still, for many organizations it's going to be a matter of if, and not when, to proceed with implementation.

To that end, SearchDataManagement editors have compiled a three-part guide to in-memory database trends, serving up expert advice on evaluating, deploying and managing the technology. Readers can expect an in-depth look at whether in-memory appliances such as SAP's HANA and Oracle's Exalytics devices are changing the nature of what in-memory database technology can be used for. Next, News and Site Editor Jack Vaughan offers a rundown of the kinds of applications that are a good fit for in-memory databases, with tips on how to decide if the technology is right for your organization. We close with key insight into the capabilities and potential uses of new in-memory options being released for mainstream relational databases. Access >>>
Table of contents
In-memory databases help meet need for IT speed
IBM gives DB2 more gas with in-memory accelerator
Add-on software takes Oracle 12c in new direction
More Premium Content Accessible For Free
Determine if NoSQL databases are right for your organization

E-Handbook

NoSQL databases offer more flexible alternatives to mainstream relational software, particularly for big data applications. But NoSQL offerings ...

Build today for tomorrow's big data architectures

E-Handbook

Developing a big data architecture today involves pulling together a lot of different technology pieces. The prevalence of unstructured data has ...

Big data and data warehousing: Where's the relationship headed?

E-Handbook

Spearheaded by big Internet companies such as Google and Amazon.com, big data technology has started to catch fire with large rank-and-file ...