data modeling
Data modeling is the analysis of data objects that are used in a business or other context and the identification of the relationships among these data objects. Data modeling is a first step in doing object-oriented programming.
Looking for something else?
TECHNOLOGIES
Data modeling is the formalization and documentation of existing processes and events that occur during application software design and development. Data modeling techniques and tools capture and translate complex system designs into easily understood representations of the data flows and processes, creating a blueprint for construction and/or re-engineering.
15 Important Data Management Terms to Know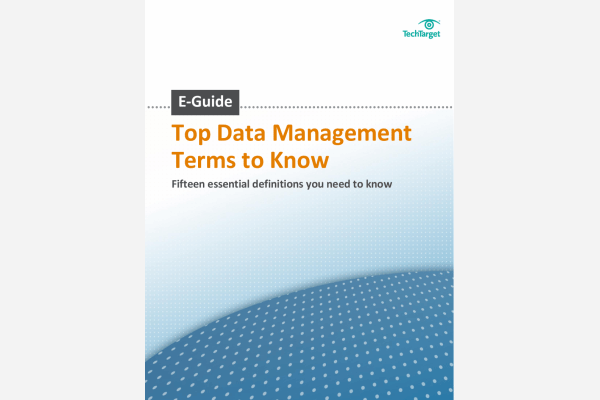 Hadoop, text mining and big data are just a few top terms raising the level of play in data management. Stay on top of hot terms you need to know to stay on top of your game.
By submitting your personal information, you agree to receive emails regarding relevant products and special offers from TechTarget and its partners. You also agree that your personal information may be transferred and processed in the United States, and that you have read and agree to the Terms of Use and the Privacy Policy.

A data model can be thought of as a diagram or flowchart that illustrates the relationships between data. Although capturing all the possible relationships in a data model can be very time-intensive, it's an important step and shouldn't be rushed. Well-documented models allow stake-holders to identify errors and make changes before any programming code has been written.
Data modelers often use multiple models to view the same data and ensure that all processes, entities, relationships and data flows have been identified. There are several different approaches to data modeling, including:
Conceptual Data Modeling - identifies the highest-level relationships between different entities.
Enterprise Data Modeling - similar to conceptual data modeling, but addresses the unique requirements of a specific business.
Logical Data Modeling - illustrates the specific entities, attributes and relationships involved in a business function. Serves as the basis for the creation of the physical data model.
Physical Data Modeling - represents an application and database-specific implementation of a logical data model.
See also:: Unified Modeling Language (UML)
Next Steps
Learn how to track and map the flow of sensitive information with a data flow map.
PRO+
Content
Find more PRO+ content and other member only offers, here.