Definition
consumer privacy (customer privacy)
Consumer privacy, also known as customer privacy, involves the handling and protection of sensitive personal information that individuals provide in the course of everyday transactions. This involves the exchange or use of data electronically or by any other means, including telephone, fax, written correspondence, and even direct word of mouth.
Will You Buy Cloud BI?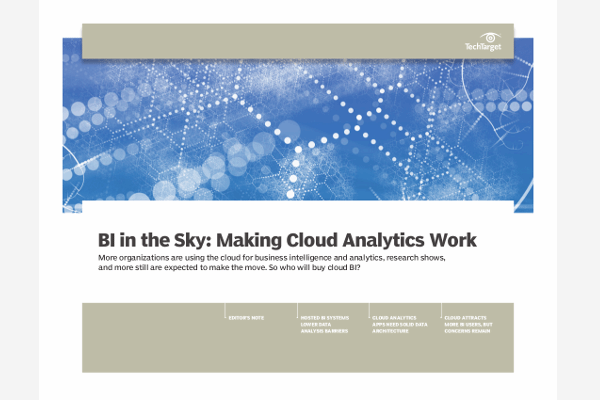 Our free, exclusive guide is designed to help IT, BI and analytics managers like you decide whether the cloud is right for your organization and get started if so.
By submitting your email address, you agree to receive emails regarding relevant topic offers from TechTarget and its partners. You can withdraw your consent at any time. Contact TechTarget at 275 Grove Street, Newton, MA.
You also agree that your personal information may be transferred and processed in the United States, and that you have read and agree to the Terms of Use and the Privacy Policy.

With the advent and evolution of the World Wide Web and other electronic methods of mass communications, consumer privacy has become a major issue. Personal information, when misused or inadequately protected, can result in identity theft, financial fraud, and other problems that collectively cost people, businesses, and governments millions of U.S. dollars per year. In addition, Internet crimes and civil disputes consume court resources, confound legislators and police departments, and produce untold personal aggravation.
The World Wide Web Consortium (W3C) sponsors the Platform for Privacy Preferences Project (P3P), which provides an automated method for Internet users to divulge personal information to Web sites with which they explicitly agree to share it. A P3P-compliant Web site posts a Statement of Privacy Policy that explicitly defines what will be done with information provided by the user. The policy statement is easily found, read, understood, and acted upon. Each user can create a unique personal profile if desired, and modify or delete the profile at will.
Other consumer privacy features commonly offered by corporations and government agencies include do not call lists; verification of transactions by e-mail or telephone; non-repudiation technologies for e-mail; passwords and other authorization measures; encryption and decryption of electronically transmitted data; opt-out provisions in user agreements for bank accounts, utilities, credit cards, and similar services; digital signatures; and biometric identification technology.
This was first published in
January 2006
Continue Reading About consumer privacy (customer privacy)
Dig Deeper on Financial reporting and compliance data management
PRO+
Content
Find more PRO+ content and other member only offers, here.