USA Patriot Act
The USA Patriot Act is a law enacted in 2001, granting controversial new and extended data-collection abilities to the Department of Justice in an effort to combat terrorism after the September 11 attacks.
The USA Patriot Act is a law enacted by the U.S. Congress on Oct. 26, 2001, at the request of then-President George W. Bush in response to the terrorist acts of September 11. The law gave new powers to the Justice Department in terms of domestic and international surveillance of electronic communications, while raising concerns surrounding the data privacy rights of citizens.
Download: 15 Important Data Management Terms to Know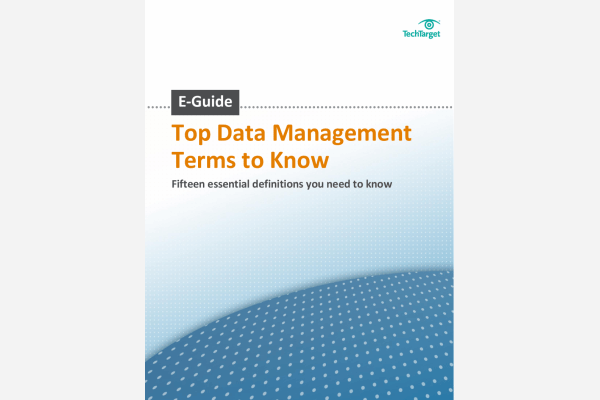 Hadoop, text mining and big data are just a few top terms raising the level of play in data management. Stay on top of hot terms you need to know to stay on top of your game.
By submitting your personal information, you agree to receive emails regarding relevant products and special offers from TechTarget and its partners. You also agree that your personal information may be transferred and processed in the United States, and that you have read and agree to the Terms of Use and the Privacy Policy.

The Uniting and Strengthening America Act by Providing Appropriate Tools Required to Intercept and Obstruct Terrorism Act of 2001 -- or "USA Patriot Act" -- is intended to help government agencies detect and prevent possible acts of terrorism, or sponsorship of terrorist groups. The act comprises 10 categories, called "titles," including:
Title I: Enhancing domestic security against terrorism
Title II: Enhanced surveillance procedures
Title III: Anti-money-laundering to prevent terrorism
Title IV: Border security
Title V: Removing obstacles to investigating terrorism
Title VI: Victims and families of victims of terrorism
Title VII: Increased information sharing for critical infrastructure protection
Title VIII: Terrorism criminal law
Title IX: Improved intelligence
Title X: Miscellaneous
Among the Patriot Act's more controversial provisions is the ability to intercept Internet messages, included among the sections in Title II. Flowing out of the government's ability to legally tap telephone lines in certain cases, the USA Patriot Act permits the interception of all messages that are "relevant to an ongoing criminal investigation." Among its other authorizations, the act also allows authorities to:
Compel organizations to provide access to "any tangible things (including books, records, papers, documents, and other items) for an investigation to protect against international terrorism or clandestine intelligence activities." Critics contend that "any tangible things" is a lower bar than previously established guidelines regarding information that businesses could be required to provide to the government.
Engage in roving wiretaps, which allows surveillance on a target without specifying the device to be tapped.
Require banks and other financial institutions to track and report suspicious activity to the U.S. Department of the Treasury in order to subvert money-laundering attempts.
In addition to the surveillance provisions, the Patriot Act includes sections related to money laundering and immigration, and also contains a section that condemns discrimination against Muslims and Arab-Americans.
On May 26, 2011, President Barack Obama signed the PATRIOT Sunsets Extension Act of 2011, which extended until June 1, 2015, the provisions regarding roving wiretaps, searches of business records and surveillance of "lone wolves" (agents suspected of engaging in terrorism who are not part of larger groups).
Opponents of the Patriot Act, including the Electronic Frontier Foundation and the American Civil Liberties Union, say the act has undone previous checks on civil liberty abuses of the past and unnecessarily endangers privacy and discourages free speech.
Continue Reading About USA Patriot Act
PRO+
Content
Find more PRO+ content and other member only offers, here.
Margaret Rouse asks:

How has the Patriot Act affected your organization?