JAQL (json query language)
JAQL is a query language for the JavaScript Object Notation (JSON) data interchange format. Pronounced "jackal," JAQL is a functional, declarative programming language designed especially for working with large volumes of structured, semi-structured and unstructured data.
Looking for something else?
TECHNOLOGIES
JAQL is a query language for the JavaScript Object Notation (JSON) data interchange format.
Know Thy Customer: Sales Analytics, Forecasting and New Tools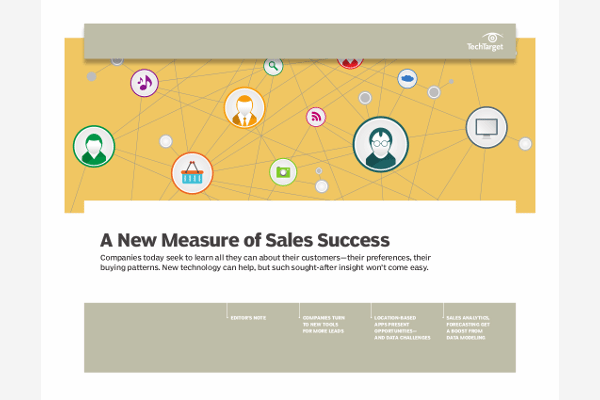 Customer data analytics can reap significant financial rewards for your organization's sales, marketing and customer service departments. With so much data to contend with, companies often struggle with making sense of information from customers, public records and external databases. Luckily, we evaluate the newest sales and marketing tools making the process easier for IT managers and sales executives.
By submitting your personal information, you agree to receive emails regarding relevant products and special offers from TechTarget and its partners. You also agree that your personal information may be transferred and processed in the United States, and that you have read and agree to the Terms of Use and the Privacy Policy.

Pronounced "jackal," JAQL is a functional, declarative programming language designed especially for working with large volumes of structured, semi-structured and unstructured data. As its name implies, a primary use of JAQL is to handle data stored as JSON documents, but JAQL can work on various types of data. For example, it can support XML, comma-separated values (CSV) data and flat files. A "SQL within JAQL" capability lets programmers work with structured SQL data while employing a JSON data model that's less restrictive than its Structured Query Language counterparts.
JSON has found wide use in Web and mobile applications, including large-scale big data and enterprise data warehouse applications. JAQL can run in local mode on individual systems and in cluster mode, in the latter case supporting Hadoop applications. It automatically generates MapReduce jobs and parallel queries on Hadoop systems.
JAQL was created by workers at IBM Research Labs in 2008 and released to open source. While it continues to be hosted as a project on Google Code, where a downloadable version is available under an Apache 2.0 license, the major development activity around JAQL has remained centered at IBM. The company offers the query language as part of the tools suite associated with InfoSphere BigInsights, its Hadoop platform. Working together with a workflow orchestrator, JAQL is used in BigInsights to exchange data between storage, processing and analytics jobs. It also provides links to external data and services, including relational databases and machine learning data.
Continue Reading About JAQL (json query language)
PRO+
Content
Find more PRO+ content and other member only offers, here.