Essential Guide
Breaking down what's in your cloud SLA
A comprehensive collection of articles, videos and more, hand-picked by our editors
HIPAA (Health Insurance Portability and Accountability Act)
HIPAA is the United States Health Insurance Portability and Accountability Act of 1996...(Continued)
FROM THE ESSENTIAL GUIDE:
HIPAA is the United States Health Insurance Portability and Accountability Act of 1996. There are two sections to the Act. HIPAA Title I deals with protecting health insurance coverage for people who lose or change jobs. HIPAA Title II includes an administrative simplification section which deals with the standardization of healthcare-related information systems. In the information technology industries, this section is what most people mean when they refer to HIPAA. HIPAA establishes mandatory regulations that require extensive changes to the way that health providers conduct business.
IT Acronyms - A Quick Reference Guide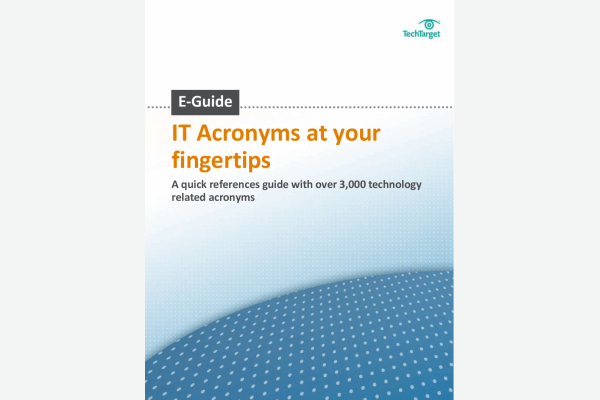 Download this free quick reference guide with over 3,000 IT acronyms; including a special section of the top 15 acronyms you need to know today.
By submitting your personal information, you agree to receive emails regarding relevant products and special offers from TechTarget and its partners. You also agree that your personal information may be transferred and processed in the United States, and that you have read and agree to the Terms of Use and the Privacy Policy.

HIPAA seeks to establish standardized mechanisms for electronic data interchange ( EDI ), security, and confidentiality of all healthcare-related data. The Act mandates: standardized formats for all patient health, administrative, and financial data; unique identifiers (ID numbers) for each healthcare entity, including individuals, employers, health plans and health care providers; and security mechanisms to ensure confidentiality and data integrity for any information that identifies an individual.
Continue Reading About HIPAA (Health Insurance Portability and Accountability Act)
Glossary
'HIPAA (Health Insurance Portability and Accountability Act)' is part of the:
View All Definitions